The Good Intent Hose Co. #1, Llewellyn, was started in 1886 and later disbanded.
On May 3rd, 1902, The Llewellyn citizens organized a fire company, known as the Llewellyn Fire Protective Association.
The fire department as it is currently, was formed in 1907 and chartered, on August 28th, 1908.

Members that organized the Hose Company
Samuel Delcamp – President
 William H. Bush – Secretary
 Charley W. Jones – Treasurer
Fire Chief – John Sherman
 Trustees – George W. Koones, Henry O. Acaley, Sam Zimmerman, Louis Stineman, and John W. Sherman

 Members signing Charter
Lou Stineman, Leir Adams, Dan Zimmerman, Edward Terrill, William A. Gable, George Fishburn, Jacob Fink, Lewis Beach, Art Salada, Lewis O. Maul,  Frank P. Boyer,  G. H. Morgan, Issac Schoffstall,  Frank Russell, Abe Starr.

The grounds were provided by the old Philadelphia and Reading, Coal & Iron Company on a 99-year lease at a $1 per year. The site was on Shober St.
Some controversy about our first apparatus.

The first piece of fire apparatus was an 1870 hand-drawn hose cart which is now housed in the current firehouse. The cart was donated to Good Intent of Llewellyn from Good Intent of Pottsville.
or
By 1910, the company had purchased its first fire apparatus. A four-wheel type which had to be pulled by firemen to the scene of the fire. It was bought from the John Yaissle Wagon Works of Pottsville.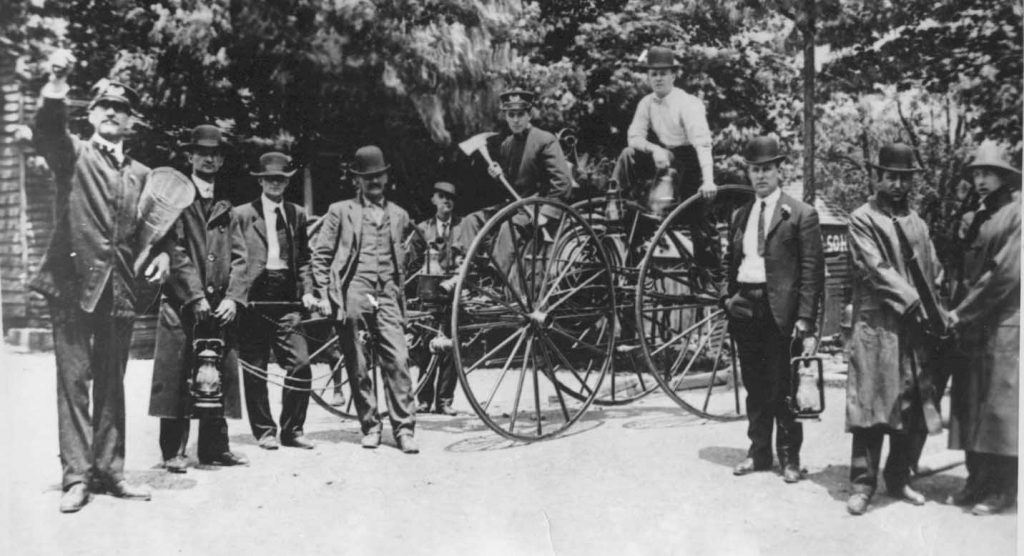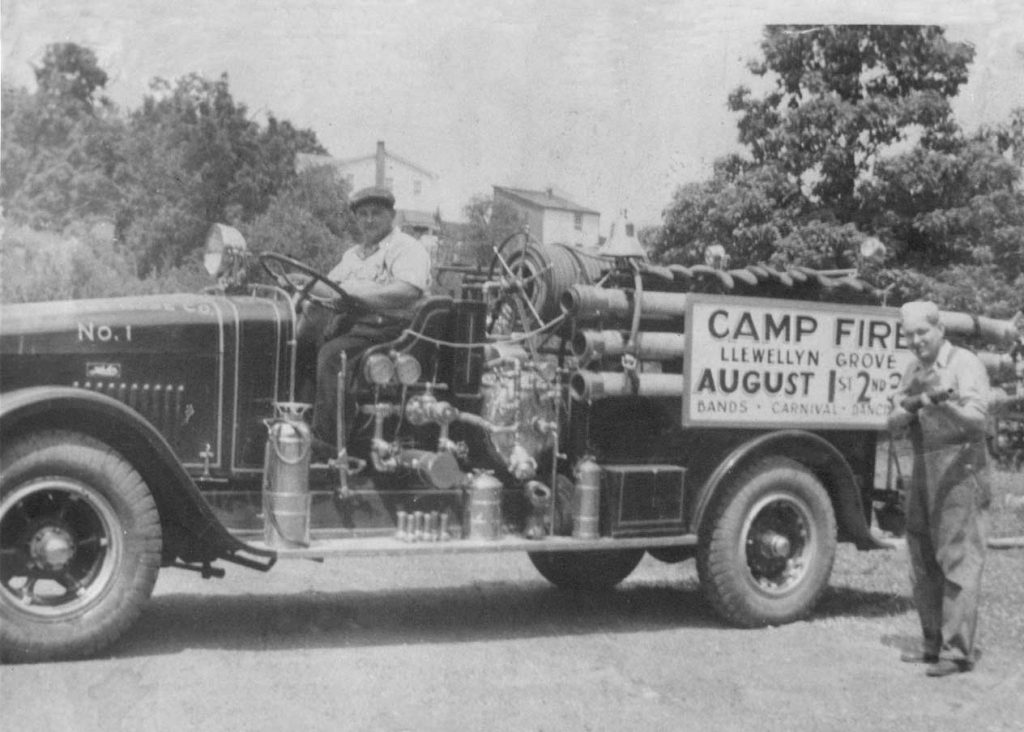 In 1929 a new Hahn Pumper was purchased. Hahn #6245 400 GPM Northern. This truck was loaned to Duncott Hose Company for a while and then given to Newtown Hose Co.
On 10/13/1953, The Good Intent Hose Company then purchased a 1953 American LaFrance 700 series Pumper. Model 705PFC. It has a 500 GPM pump, 500 Gal Tank
On February 5th, 1970, the Good Intent Hose Co. #1 had a devastating fire. Everything was lost. The station and the engine were destroyed. Neighboring fire departments
(13 total) were called to extinguish the blaze.
Yorkville Hose Company loaned a truck for the fire company to use until a new truck could be purchased. It was housed in the garage of the Llewellyn School.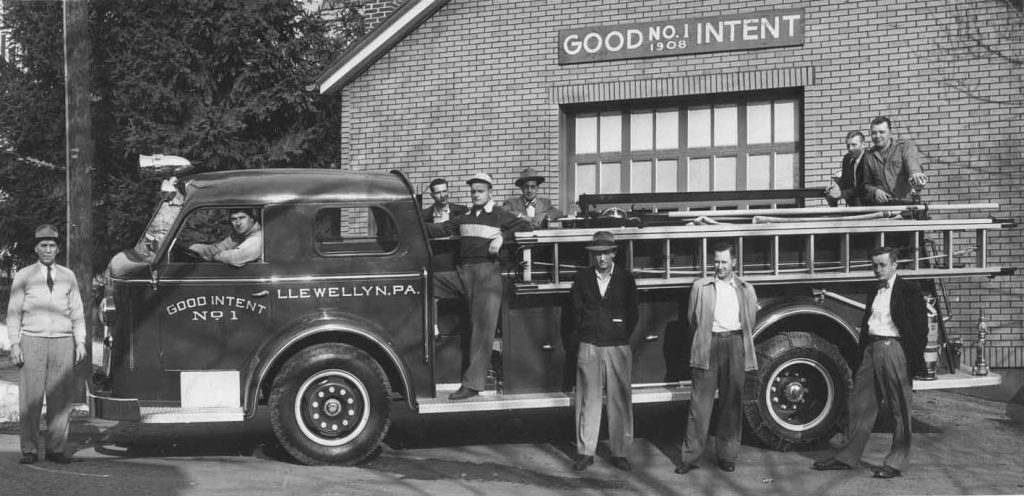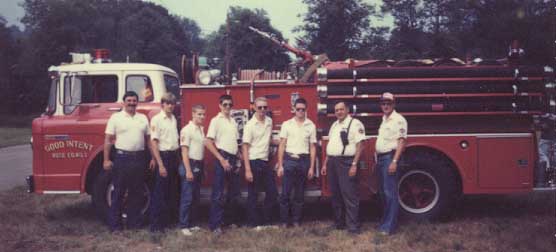 With the help of the citizens, businesses and other fire departments, The Good Intent Hose Co. #1 was able to build a new station and purchase a new engine, a 1970 Ward LaFrance. It has a 1000 GPM pump, 750 Gal Tank
During the 1980's the next piece of apparatus purchased was a 1971 milk truck from Clover Farms Dairy in Muhlenberg Township, Berks County. The milk truck was refurbished into a 3600 gallon tanker with a 350 GPM pump. The truck was sold in 2004 to a construction company.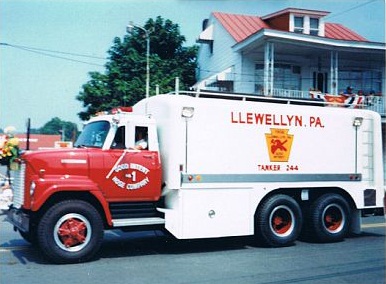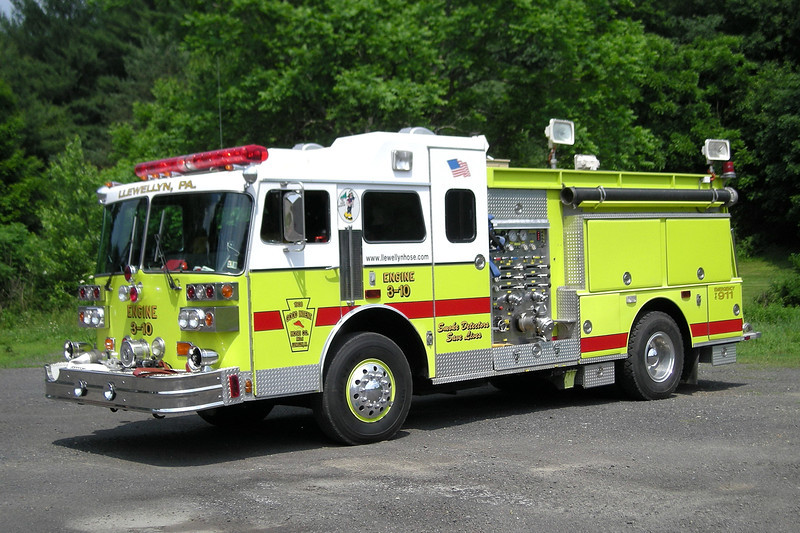 In 1998 a used 1984 Sutphen engine was purchased from the Blue Ridge Summit Fire Company located near the Maryland border.It has a 1500 GPM pump, 1000 Gal Tank. The Sutphen was then Sold to Mosheim Volunteer Fire Department.
In 2000 a 1965 Dodge 300 4×4 Power wagon was bought from Lenni Heights Fire Company, Lenni, PA for $500. It has a 250 GPM Pump, 250 Gal Tank.This vehicle is used as a utility/brush truck. Truck was sold to a private contractor.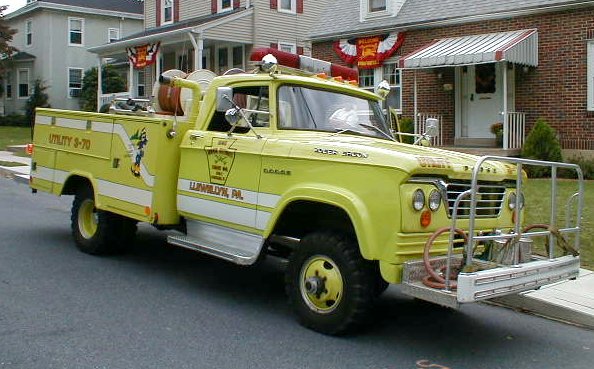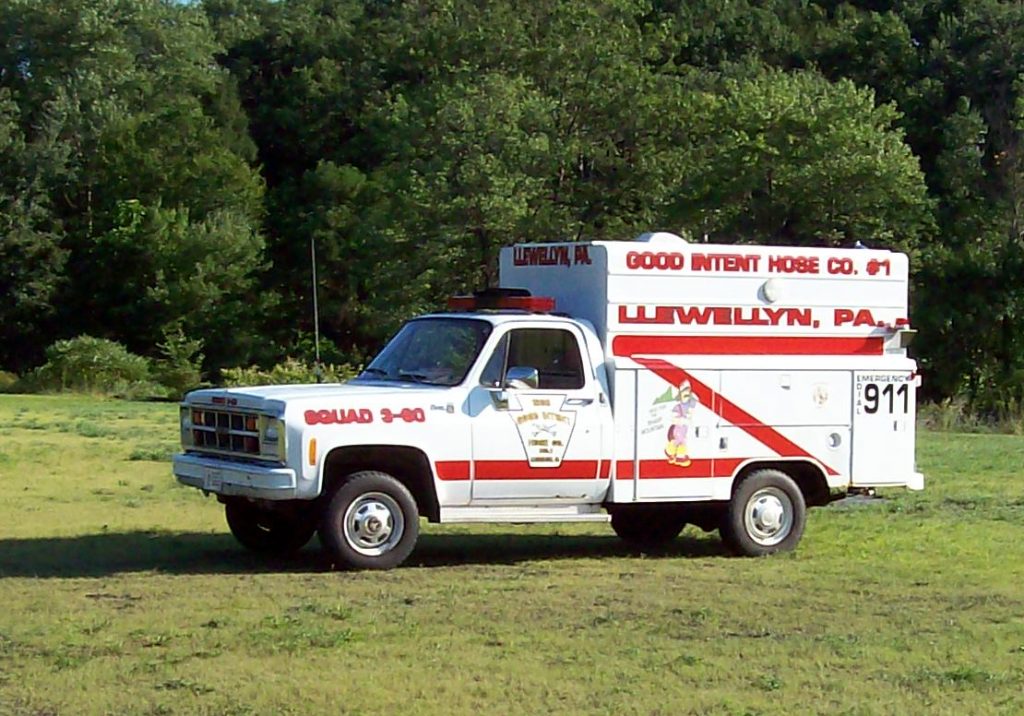 In 2001, This 1986 Chevy 4×4 was donated by Tunkhannock ambulance and is now used for a squad truck. In 2007 this truck was sold to a contractor.

In 2004, The company received a grant from FEMA for $207,000. The money was used to replace the tanker and to buy this brand new Central States Tanker.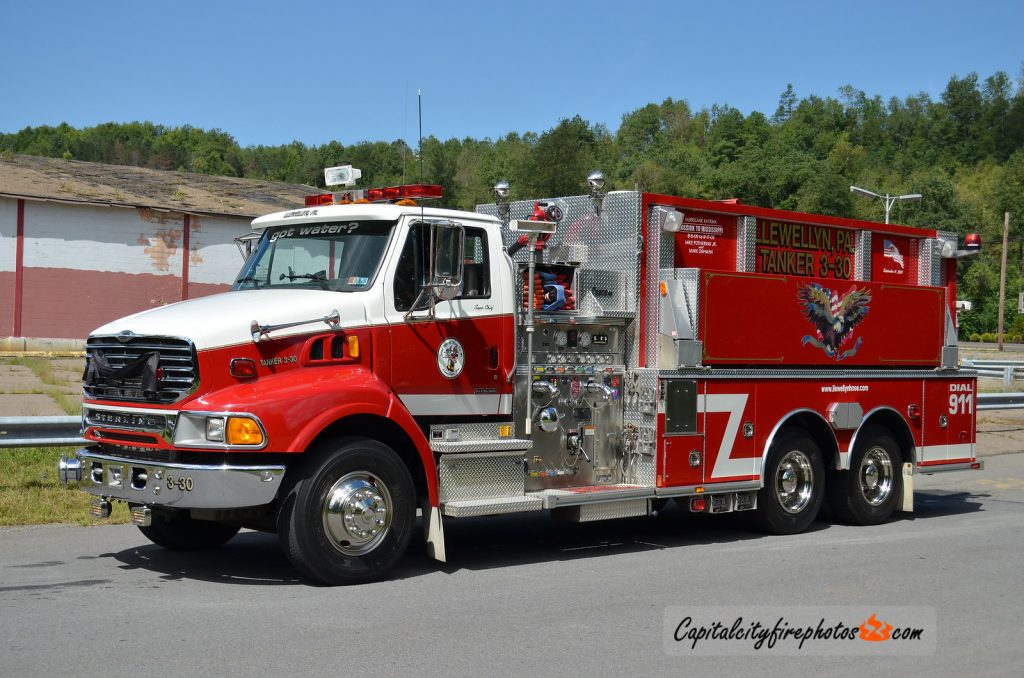 In 2006, This 1980 FMC was donated to the company from East Penn Fire and Emergency. This Truck was then borrowed by Clover Fire Co of Hecksherville and Donaldson Fire Co when they were having issues with their main engines. Eventually, this truck was then donated to Coalplay Fire Co and it is in service.
In 2007, This 1984 Ford was bought off of HH&L from Pine Grove. This unit replaced the 1988 Chevy that had rust issues from sitting out outside for 6 years. The Unit was then sold to a contractor.
In 2008, This 1988 Ford F350 4×4 was donated to the company from PA DCNR. This truck was created into a fire company vehicle by the members and is used as a brush truck and utility vehicle. The truck was then sold as a private bid.
In 2009, The company received a grant from FEMA. The money was used to replace 3-70 and the dodge was sold to a private buyer who plans of restoring. The New 3-70 is a 2009 Ford 550 Rosenbauer.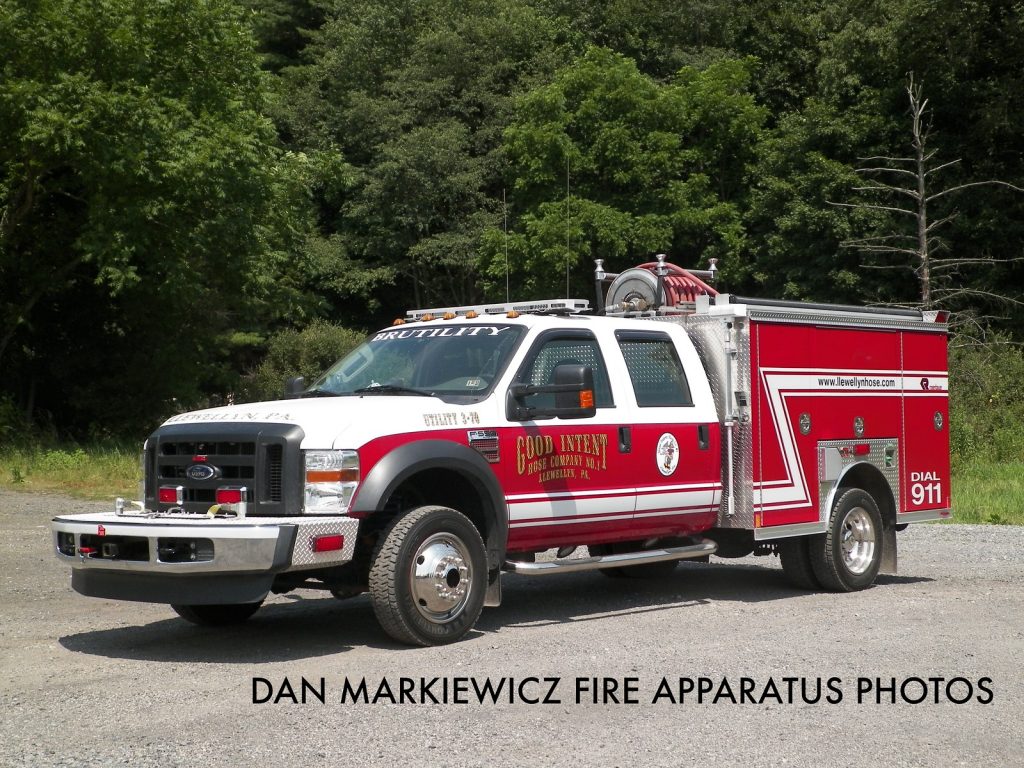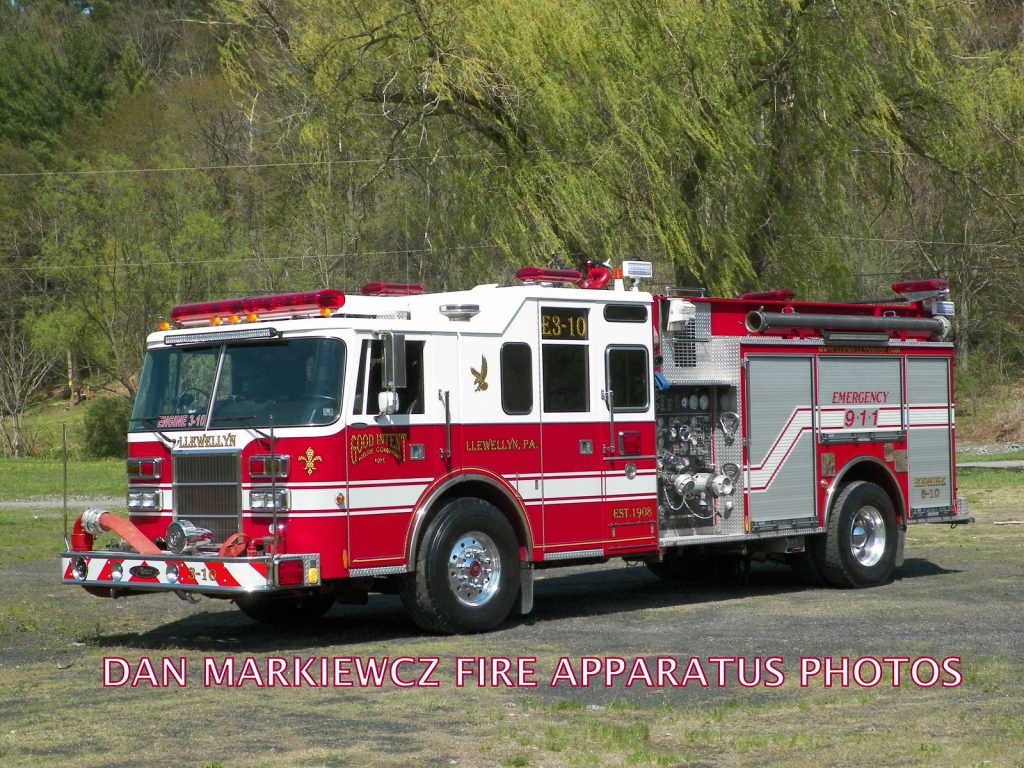 In 2014, Company purchased this 1994 Pierce Engine from Hawthorne Fire Company in New Jersey. This piece replaced the Sutphen. The company purchased this vehicle on an online bid for $25,000. 2000 GPM Pump 750 Gal Water 50 Gal Class A Foam.
In 2016, This 1985 Chevrolet D30 was loaned to the company for our DCNR Brush Crew. 200 GPM / 200 Gal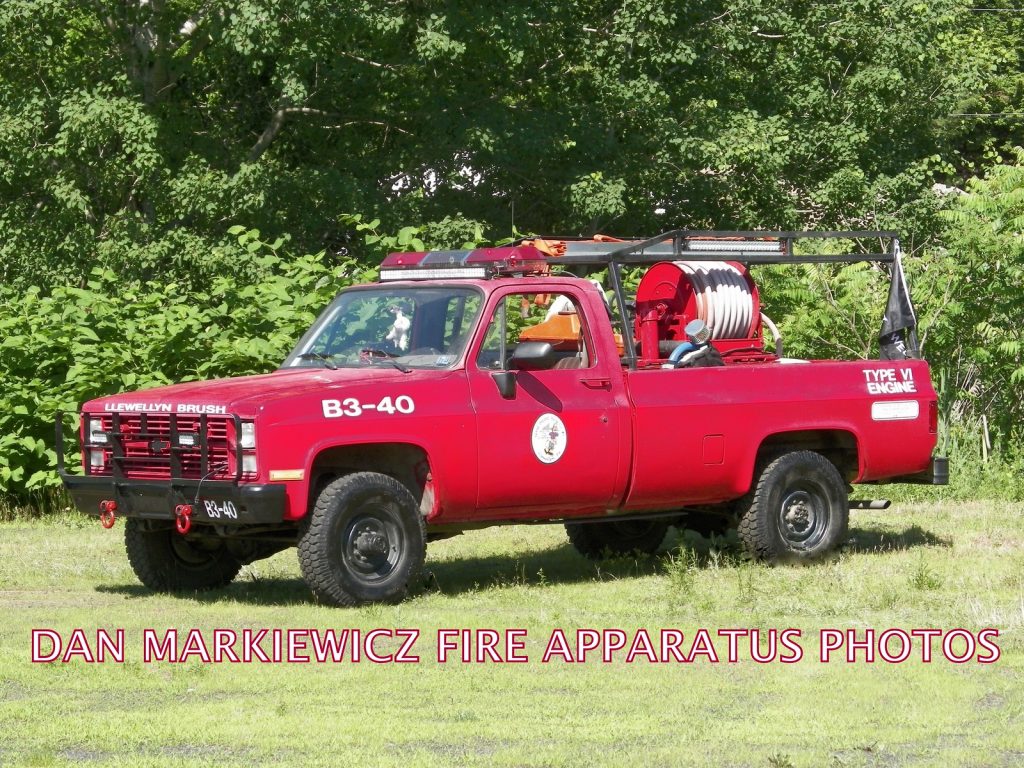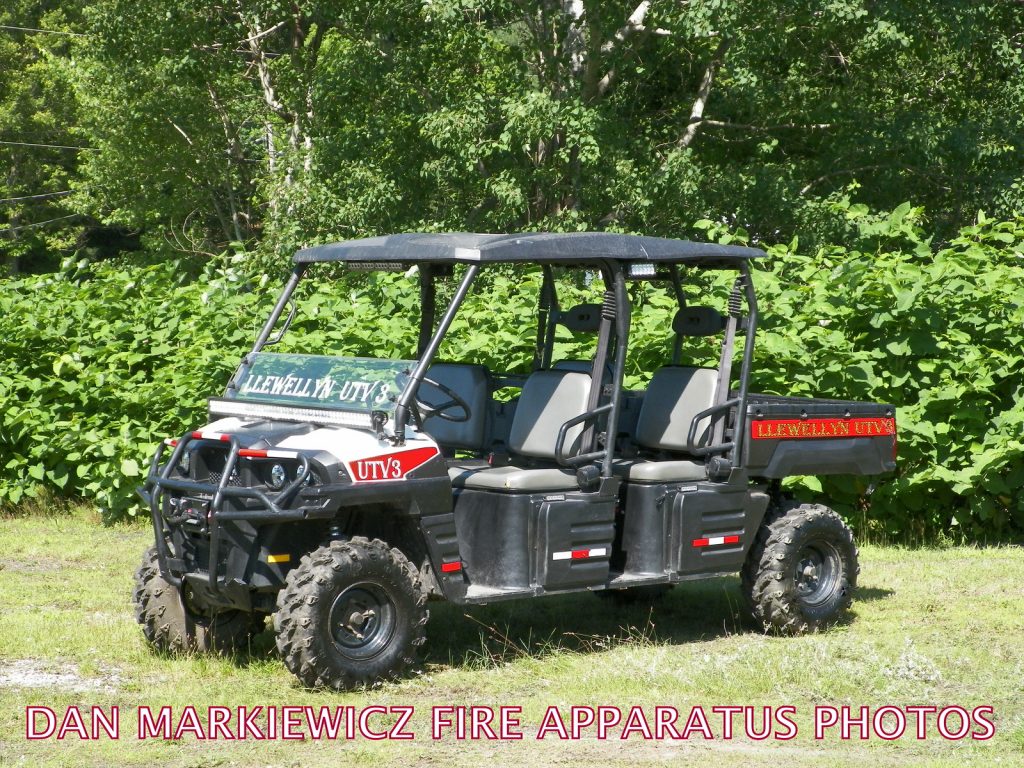 In 2016, This 2011 Bobcat Diesel 3400XL was purchased from Womers Landscaping. The company Lifted, New Tires, Scene Lighting and Emergency Lights n Sirens were added in-house. The unit is used to transport personnel in and out of the woods. 2022 Unit was sold
In 2017, This 1995 Spartan Salisbury Engine was bought to replace the 1984 Ford. The truck was sold to Delano Fire Co 2022

1995 Saulsbury
Detroit diesel engine 40
Hale Godiva Pump 1250 GPM
500 Gallon Poly 15 kw Harrison 4 quartz lights & light tower & Hurst Rescue Tools
292" L 101" W 140"
Wheel Base 117" H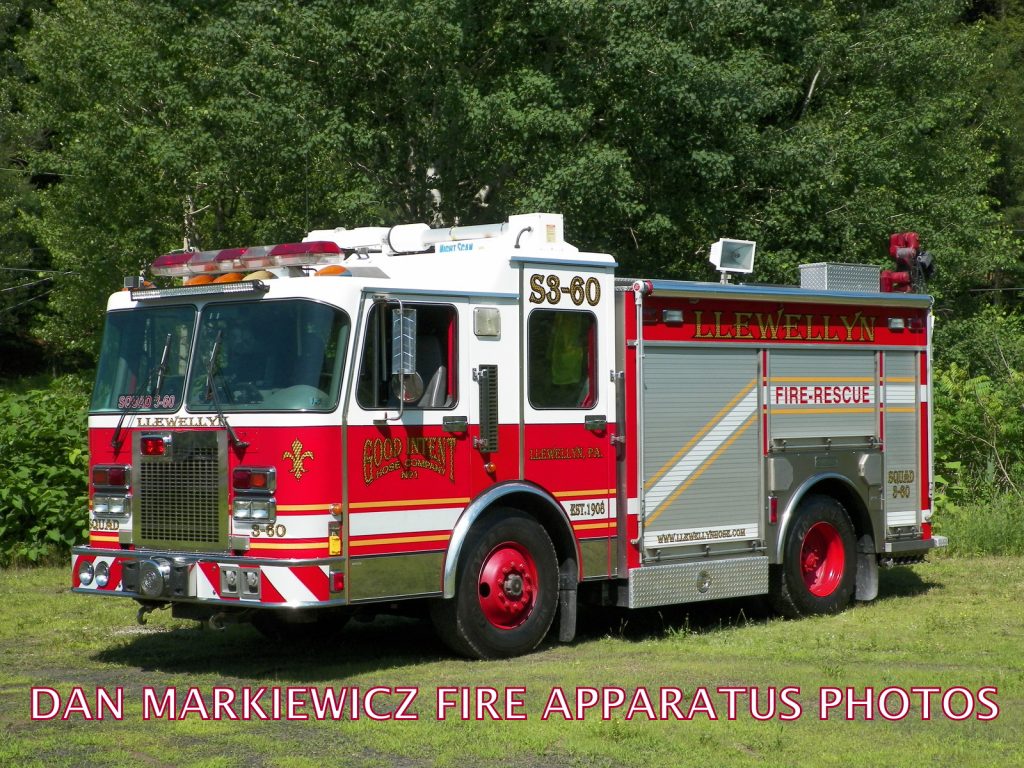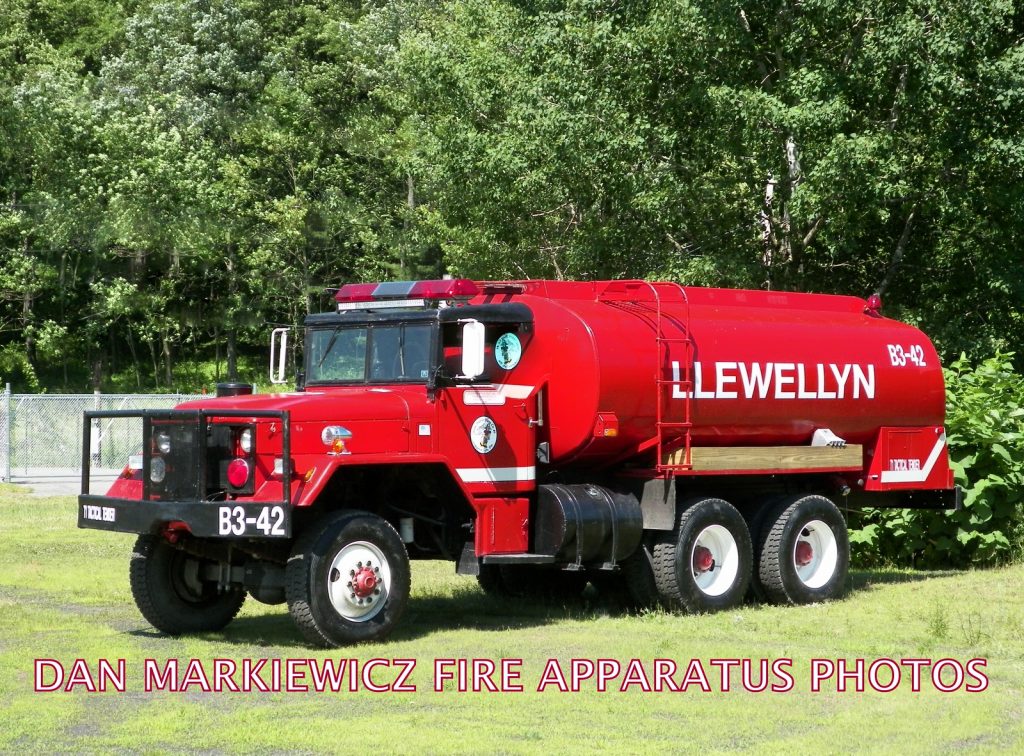 In 2018, This 1975 M54 Kaiser was loaned to the company from DCNR for Brush company use. This Unit was then replaced a year later and sent back to DCNR.
In 2019, a 1998 Stewart and Stevenson M1083 was donated from the Department of Defense and DCNR. The company built this unit in-house for wildland fire and High water rescue.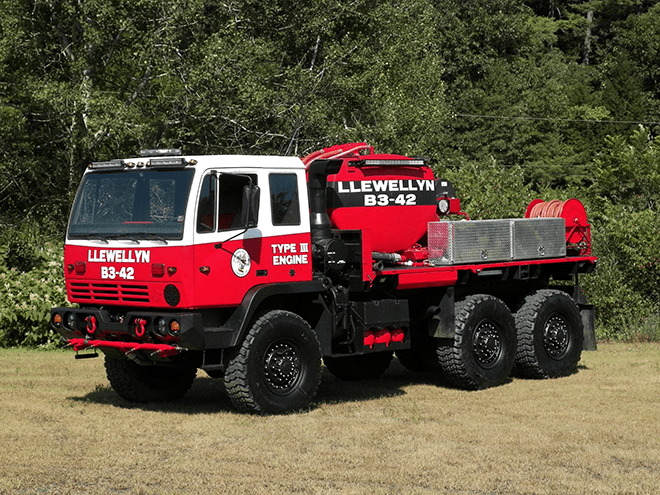 In 2021, a 2000 Spartan Saulsbury was purchased from Kimberton Fire Company and Replaced the 1995 Saulsbury.
Specs:
3-60v5
2000 Spartan Saulsbury
2500 GPM Single Stage
750 Gal of Water
Foam Systems
50 Gal Class A Foam
30 Gal Class B Foam
and also CAFS
6,000 Watt Light Tower
6,000 Watts of additional Scene Lights
3×12′ Suction Hose
35′,24′,14′ & 10′ Ladders
Driver Side compartments are Primarily Setup for Vehicle Extrication
Passenger Side compartments are set up for Structure & Electrical.